23/10/2020 – This Week in Gold
Gold opened the week at $1,898 per ounce, and rose upon opening as expectations of a pre-election stimulus package in America were heightened. A brief dip below $1,900 was soon offset by an extended rally which continued as far as a week high of $1,925 on Wednesday. This marked a record high for a daily finish this month.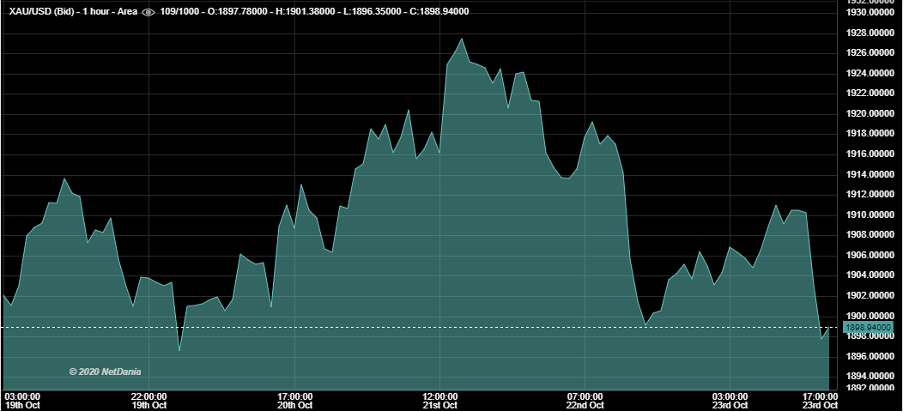 On Thursday these gains were reversed due to a strengthening dollar. US treasury yields rose off the back of better than expected jobless claims, while lower bond prices also paved the way for a lower gold price. Gold ticked higher on Friday morning again buoyed by stimulus hopes, however a reasonably strong dollar put a cap on these gains, and gold reversed below $1,900 again to finish the week back at $1,898.
Silver finished the week up around 1.5%, and was mentioned frequently by a number of analysts forecasting higher prices for the remainder of this year and 2021.

Silver Potential Against a Weakened Dollar
Silver has proven popular with investors this year, with the fallout from the pandemic seeing a strong rise in investment demand. The Silver Institute this week reported a 65% increase in demand for silver bullion coins and a subsequent sharp increase in silver bar demand in the first three quarters of 2020. This increase in investment demand has been offset by a fall in industrial demand for the metal, although some analysts who follow the Gold:Silver price ratio still view the metal as undervalued compared to gold.
Analysts from Citibank and Goldman Sachs this week indicated a very positive outlook for silver. Citibank have upped their forecast to $40 per ounce, a height they expect silver to hit within the next 12 months. The analysts cited a possible increase in demand driven by the attractiveness of silver as a cheap entry point into the precious metals market for new investors, and a large-scale increase in industrial demand.
Goldman Sachs analysts cited a weakened dollar as a distinct possibility due to expected stimulus measures in the US, whether before or after the Presidential Election, and identified silver as an attractive method of hedging against this devaluation.
Chilean Reforms Pave Way for Gold Rush
Chilean pension funds have been given the green light to invest in gold for the first time. This change in regulation is part of a wide scale reform in Chile. Up until 2018, Chilean pensions were restricted to investing only in liquid assets. Gold has now been added to the wide list of alternative assets available for investment, which analysts have identified as a possible driver of demand for the yellow metal.