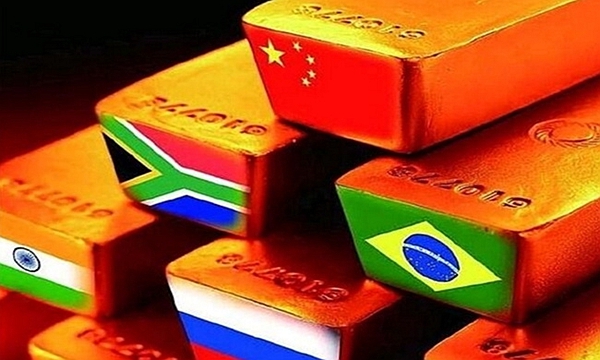 25/08/2023: This Week in Gold with Market Updates
Gold opened the week trading at $1890 and hovered around $1,891 for much on the trading day. As is expected during weeks of economic meetings, price was hesitant to move in either direction. Higher bond yields ensured that gold didn't move much to the upside.
Gold continued to consolidate on Tuesday, experiencing a slight gradual increase to close out the day. A stronger dollar dampened any potential gains that could be made. Gold closed the day at $1,899, still relatively near to the low levels that were experienced in the week prior.
Price carried on moving to the upside from the open on Wednesday. Gold rose 1% to close the day at $1,918. This pushed the price to a near two-week high with the rise being attributed to a slight decline in both bond yields and the U.S. dollar.
Gold reached a weekly high on Thursday, keeping in line with the gradual rise that began on Tuesday afternoon. Price hit a weekly high of $1,922 around midday and consolidated around this level for a number of hours before slowly falling. Gold stayed relatively steady for the day, mainly because of the markets anticipation in FED Chair Jerome Powell's speech at the Jackson Hole on Friday. Powell will be speaking on the future of interest rates, providing information as to whether rates are going to stay higher for longer. At the time of writing, gold is trading at $1,917.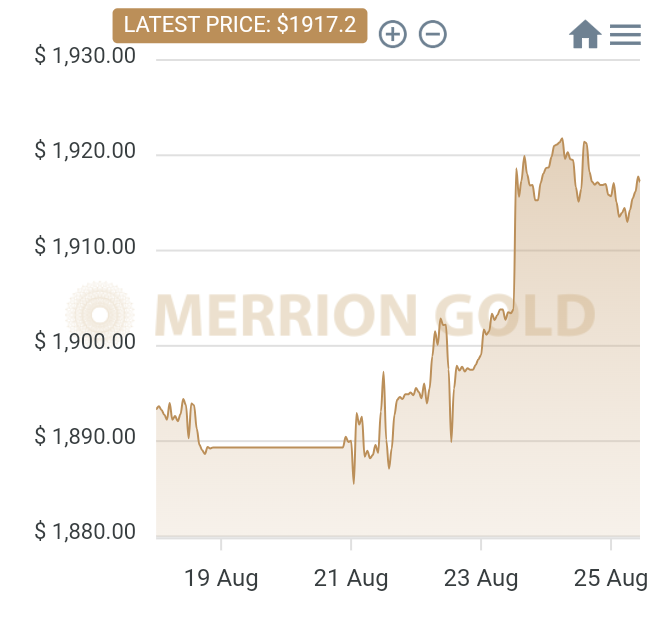 Silver had a promising week, showing a steady rise in price and hitting highs not experienced since early August. Silver opened the week trading at $22.78. The price would typically mirror the movements that gold would make throughout the week. However, silver price movement showed relative strength when compared to gold.
Silver rallied further on Wednesday, where a 3.6% rise was experienced by the close of trading. Silver peaked at this high and consolidated within a narrow range for the remainder of the day. At the time of writing, silver is trading at $24.19.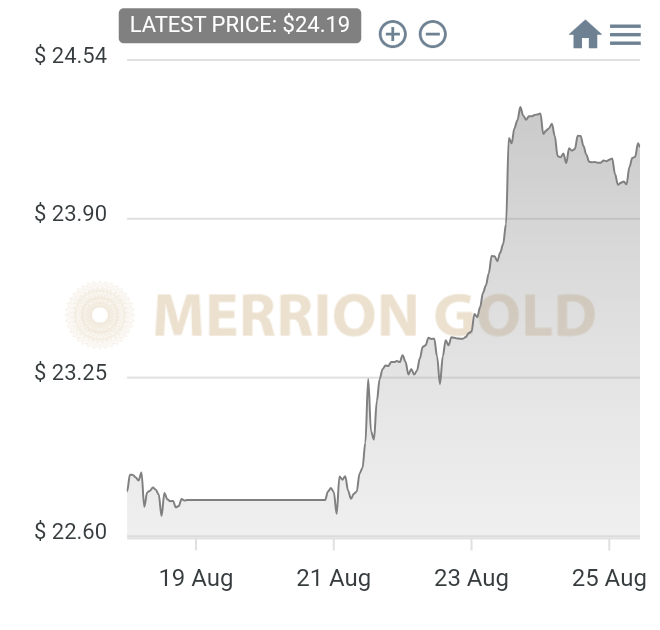 B.R.I.C.S., which is a grouping of world economies, namely: Brazil, Russia, India, China and South Africa, announced earlier this week that it would be expanding further. At the bloc's summit, it was announced that a further 6 nations would be joining the strategic alliance. Those countries are as follows: Argentina, Ethiopia, Iran, Saudi Arabia, Egypt, and the United Arab Emirates. The expansion of the group is huge in geo-politics and B.R.I.C.S. nations now have a larger combined GDP than the G7 nations in terms of purchasing power parity.
The expansion of the bloc has led many to speculate that the U.S. dollar's reign as the dominant reserve currency could be threatened by a new B.R.I.C.S. currency. B.R.I.C.S. countries have been steadily reducing their U.S. Treasury holdings and increasing gold reserves. It has been rumoured that the alliance may be on the verge of forming a new gold-backed currency. This would certainly lead to B.R.I.C.S. challenging Western-led dominance in the world of trade.
A reset in the world's view on currency could lead to a surge in demand for gold. When there is uncertainty surrounding currency, investors look to move money into safe-haven assets, with gold being the main alternative to FIAT currency.
Fed Chair Jerome Powell is set to speak at the Jackson Hole conference later on today. Powell will be informing investors on the future of U.S. interest rates, with markets anticipating that rates will stay higher for longer.
Gold will most certainly react to FED Chair Powell's comments by the close of trading on Friday. As gold price and interest rates are inversely related, an announcement that rates will stay higher for longer would expectedly move gold lower. However, this movement may already be priced into the market.